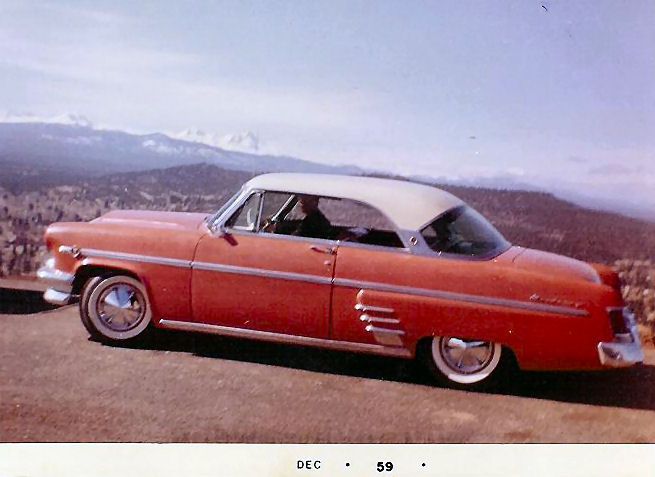 Here is Jack Warner's 1954 Mercury Monterey. It was given to him by his brother, Jerome, and had a cream top and bittersweet body color with a black and bittersweet interior. Jerome had the scoop molded on the hood; Jack put lowering blocks on the rear; and Steve Wendell cut 2 coils out of the front and cut the frame for a better ride. The front end was so far out of alignment, it ate up a set of tires in a week! Merritt's Garage in Bend did a great job for Jack, helping with allignment and streering arms. Jack thinks most will remember the pipes on this car: Nice and loud by his standards in 1959! This picture was taken from Pilot Butte, of course. You can see Bend and the Three Sisters (Faith, Hope and Charity) in the background.
SHOW AND SHINE
CAR SHOW
SATURDAY, SEPTEMBER 19, 2009
HUNG OUT! TALKED ABOUT CARS
ON THE LAWN
AT THE INN!

Russ Young's first car, a '41 Mercury, bought when he was 15, for $57.25. The lady posing in the middle photo was his girlfriend when the photo was taken, now is his wife, Barbara Kratke (class of '60). Russ still has this car!
B.Y.O.P.
BRING YOUR OWN PICNIC PARTY
SUNDAY, SEPTEMBER 20, 2009
NOON TO FIVE!
LARKSPUR PARK
1700 SE Reed Market Road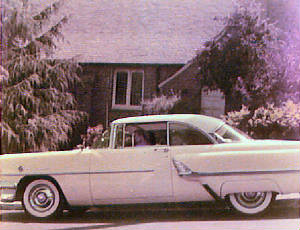 This is Anne Crenshaw Morin NOT driving her dad's beloved '55 Mercury Montclair (292 Engine, Trans Merc-O-Matic), the one he named "The Butterball" because of its lovely yellow color. The photo was taken at the side of her dad's church, Trinity Episcopal, at the end of the main drag in Bend. Anne would love to say she was actually driving The Butterball in this photo, but she admits that that would be a total lie since not only did he name his cars, Rev. Crenshaw's cars were like his children and no way would he let his children drive his children! (He was known to put an electric blanket on an Alfa Romeo Spider he owned when the nights were cold in Lake Oswego.)